Coral Reefs
Improving MPA Management
Our Ocean, Our People, Our Prosperity
Prof Heather Koldewey, Lead, Bertarelli Foundation's Marine Science Programme
It's a blustery sunny day as I walk along my beach at home in Cornwall. As I look out across the infinite blue water, I think of the opportunities for action at the Our Ocean conference taking place on the other side of the ocean in Palau. This extraordinarily beautiful archipelago of over 500 islands in the western Pacific has long been on my bucket list, not just for its incredible marine life but also because of the global leadership this small island developing state (SIDS) has taken in fully protecting 80% of its waters. Sadly, this time it was not to be for me as Covid struck meaning I was unable to travel. With quick reorganisation of some very complex logistics, the Marine Science programme was represented by Alexy Khrizman, our PhD student from Stanford University working on coral reefs in Palau and the Chagos Archipelago. Alexy sent news and images throughout the two days of the conference, shared on our @Marine_Science Twitter feed.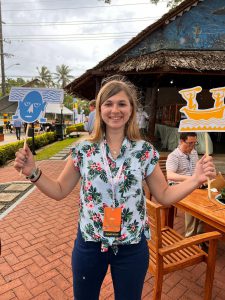 Image credit: Jack Fishman (PADI Aware)
I closely followed the conference online – how would Our Ocean deliver in the twice-delayed Ocean Super Year? Would momentum build from COP26 in Glasgow in recognising the ocean crisis is the climate crisis? How do these gatherings really make a difference for the planet, especially as we scrutinise the carbon footprint of every trip we make in the name of conservation? How can we make the most difference for the ocean in the shortest period of time?
The Our Ocean conferences have been defined by the hundreds of commitments of billions of dollars from governments, business, and civil society. A new report launched by the team from Oregon State University found that two-thirds of these commitments had been met, with real progress towards the rest. This encouraging analysis gives real optimism for the likely success of the impressive additional 410 commitments amounting to USD$16.35 billion made in Palau this week. However, the level of urgency and anxiety were clear. There are major problems to be solved. Illegal, unreported and unregulated fishing proliferates, the high seas treaty remains mired in political inertia, there are risks to MPAs due to economic crises, we are not meeting international targets for ocean sustainability, and there is an overall lack of urgent action even when we know the solutions. However, this week it seems the shipping sector stepped up to reduce their emissions, new technologies, tools, partnerships and collaborations were announced, and there was more engagement in the High Ambition Coalition of Nature and People.
The Our Ocean leaders were passionate and profound, but the voices of Palau that resonated most were those of indigenous communities and youth. These are voices we need to listen to, to hear and to act upon. The ocean currents from Palau will make waves to the UN Ocean Summit in Lisbon in June. From our perspective in the Marine Science programme, we continue to work to bring science into management and policy. The 121 scientific papers from our programme over the last four years demonstrate and reinforce the value of MPAs for biodiversity protection and ocean resilience. Our marine scientists are ocean leaders. We will be working hard from now till Lisbon, for the ocean, for people and for prosperity.