Reducing the Impacts of Plastic around the Indian Ocean Natural Environment
Project Overview
BIOT's coastal ecosystems are threatened by the accumulation of large volumes of plastic debris.
Although remote, large volumes of plastic waste pollute BIOT's coastlines, negatively impacting biodiversity including regionally important populations of green (Endangered) and hawksbill (Critically Endangered) sea turtles. Plastic waste builds up on beaches and includes bottles, caps, containers and abandoned, lost or otherwise discarded fishing gear (e.g. nets, floats, buoy, rope). Accumulated debris at the top of beaches and amongst vegetation obstructs access to turtle nesting sites. Plastic particles in sand may increase sand temperature during incubation of eggs, potentially affecting turtle hatchling sex ratios. Plastics may also cause mortality by entanglement and ingestion. Occasional beach cleans remove shoreline debris that returns rapidly through flows of plastic into BIOT from heavily populated areas across the Indian Ocean. Consumption of single-use plastic on Diego Garcia also creates waste streams that are hard to manage in this remote location.
This project will empower BIOT stakeholders to implement cleaning strategies on target beaches, mitigating the impacts of plastics on nesting turtles. We will investigate the impacts of macro and micro plastics on nesting sea turtles and work to develop long-term strategies to enable systemic change, reducing Diego Garcia's single-use plastic consumption, improving disposal and recycling practices.
This project is also funded by a UK Government grant, the Darwin Plus Initiative.
We have observed accumulated beach debris impeding turtle nesting activities on a number of beaches in BIOT.
Key Facts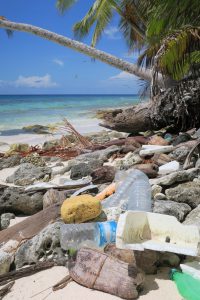 40%
of all plastic made yearly is for single-use plastic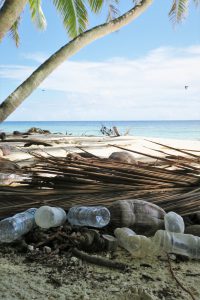 175
average number of SUP water bottles UK adults use per year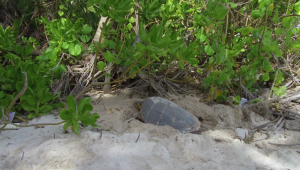 7
All 7 marine turtles are known to ingest marine debris
Publications

Travel routes to remote ocean targets reveal the map sense resolution for a marine migrant
Hays, G.C., Atchison-Balmond, N., Cerritelli, G., Laloë, J.O., Luschi, P., Mortimer, J.A., Rattray, A., and Esteban, N., (2022) Travel routes to remote ocean targets reveal the map sense resolution for a marine migrant. Journal of the Royal Society Interface