Profile
My PhD research focusses on sea turtle ecology in the Chagos Archipelago.
Estimating the total number of individuals of a population, along with breeding success, is vital to understanding the ecosystem role of species and their population dynamics. However, population assessments are difficult to obtain for sea turtles depending on their life stage and due to the nature of their breeding. Sea turtles do not breed annually, are capital breeders and often emerge on remote beaches to nest.
This project follows on from the existing research programme to investigate the ecology of sea turtles nesting across the Chagos Archipelago. Now we can undertake long-term field seasons, the aim is to determine the success of sea turtle nesting and hatchling emergence and investigate how variations in beach zone, seasonality, beach vegetation, and temperature influence their success. I will also explore how sites may change under future climate scenarios and how this can influence population dynamics.
New methods and technology will help to facilitate this research. Remote cameras will be used to update estimates of nesting populations of sea turtles, and drone footage will be used in combination with satellite tracking data to assess patterns of abundance in immature sea turtles in the Chagos Archipelago.
The Chagos Archipelago supports all life stages of turtles and provides a great opportunity to study immature turtles, an understudied life stage, at shallow foraging and development sites. Our research at Turtle Cove in Diego Garcia shows the highest densities of immature hawksbill turtles in the world.
PhD candidate, Swansea University
Assistant Marine Environmental Assessment Officer, Natural Resources Wales
Seagrass Technician, Swansea University
Research Assistant, Swansea University
Volunteer Coordinator, Atoll Volunteers, Maldives
MSc Environmental Biology: Conservation and Resource Management, Swansea University
BSc (Hons) Marine Biology, Swansea University
Sentinel Species Research

The Ecology of Sea Turtles in the Indian Ocean Region
Other interests
I am interested in how we can incorporate new methods and technology in combination with traditional methods to refine our findings and create a bigger picture.
I researched the diet of green turtles in the Western Indian Ocean (WIO) and the variation in their diet around the World for my MSc project. Seagrass is a main component of green turtle diet, and I am interested in the role that green turtles play in structuring seagrass ecosystems.
My Publications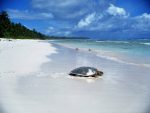 A Global Review of Green Turtle Diet: Sea Surface Temperature as a Potential Driver of Omnivory Levels
Esteban, N., Mortimer, J.A., Stokes, H.J. et al. A global review of green turtle diet: sea surface temperature as a potential driver of omnivory levels. Mar Biol 167, 183 (2020). https://doi.org/10.1007/s00227-020-03786-8

Green Turtle Diet is Dominated by Seagrass in the Western Indian Ocean Except Amongst Gravid Females
Stokes, H. J., Mortimer, J. A., Hays, G. C., Unsworth, R. K., Laloë, J. O., & Esteban, N. (2019). Green turtle diet is dominated by seagrass in the Western Indian Ocean except amongst gravid females. Marine Biology, 166(10), 135.